For February, I felt like I got back in the groove of reading after a slow start to the year. I didn't write as many reviews this month but there were definitely some stand outs. I've also decided to tackle my large list of books that I've bought but never read and for the next few months, I'll be concentrating more on those instead of new releases.
• • • • •
FAVORITE READS THIS MONTH
Available March 12th

New Heights by Quinn Anderson
My Review  •  Goodreads
I enjoyed every part of this book and quickly devoured it, only stopping because worked forced me to; otherwise I would have just kept reading! Great pacing and smooth writing lend to a great story that feels much longer than it's actual page count. With truly likable characters and a fun romance, I will definitely be reading more books by Quinn Anderson.
• • • • •

Game of Hearts (Fandom Hearts #3) by Cathy Yardley
My Review  •  Goodreads
Just like the other books in the series, Game of Hearts was wonderfully nerdy! Jericho was the perfect book boyfriends and Kyla was everything you want in a feisty heroine. Cathy Yardley's authenticity of the nerd world always shines through and this series just keeps getting better and better.
• • • • •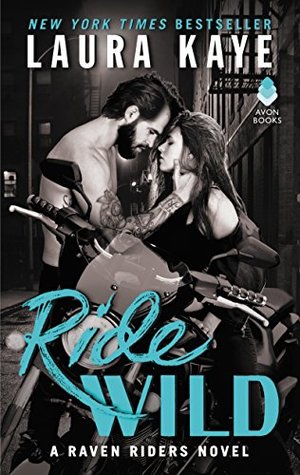 Ride Wild (Raven Riders #3) by Laura Kaye
My Review  •  Goodreads
I'm a huge fan of Laura Kaye's books and when I finally got the chance to read the latest in the Raven Riders series I loved every bit of it. Cora and Sliders were such great characters with so much feeling and compassion. Slider has had it rough but watching him re-find the light in his life was beautiful. Not to mention that Slider's kids, Ben and Sam are just too adorable!
• • • • •

Levi (Hell Squad #15) by Anna Hackett
My Review  •  Goodreads
If you love a bad boy with a heart of gold then Levi is your next book boyfriends. This is one of my all time favorite series and each book just adds more to the world. Levi was an alpha male to the T but Chrissy knew just the way to handle him and these two practically set my kindle on fire.
• • • • •
Dangerous Witness (Redemption Harbor #3) by Katie Reus
My Review  •  Goodreads
Another great addition to the series and I quickly breezed through it. The suspense and action was really unique in this one because of the way our villain was written. I also loved Darcy and Brooks and how they worked through their issues. Darcy was really hurt by Brooks' accusations but that doesn't stop how they felt about each other. Plenty of action and a sweet and emotional romance make for a great read.
• • • • •
READING CHALLENGES
Contemporary Romance Reading Challenge
7 of 21 completed
A to Z Reading Challenge
15 of 26 completed
Beat the Backlist Reading Challenge
16 of 25 completed
Bad Boys of Romance Reading Challenge
3 of 15 completed
Romance Roundabout Challenge
14 of 65 completed
Ultimate Reading Challenge
2 of 12 completed
• • • • •
PLANNING TO READ NEXT
Guardian (Galactic Gladiators #9) by Anna Hackett
Exposed Romance Anthology by Assorted Authors
Hard Crush (Back to You #1) by Mira Lynn Kelly
A Lot Like Love (FBI/US Attorney #2) by Julie James
• • • • •
DISCUSSION
What books did you love this month?