The Tag
#NotAll Book Tag
This tag comes from The Orangutan Librarian and is all about exceptions to the rule for things we dislike in reading. I figured I'd give it a try, though some of the topics were hard to find a book for.
#NotAll Cover Changes — A cover change you liked
I read the Unforgettable series by C.J. Barry when they were in paperback (top image) and never really liked the covers because they're so old school romance. But when I went digital and bought the ebooks, they had these beautiful new covers (bottom image)! I love the cohesion of design, the bright colors and the overall updated feel.
#NotAll Adaptations — A movie adaptation you love more than the book
I didn't have much to choose from in this category, but The Hunger Games by Suzanne Collins was definitely one where I liked the movie over the book. I actually didn't really like the book at all because I couldn't stand Katniss. We'll just say that in the movie she's much more likable and I actually believe that she can be a role model.
#Notall Tropes — A trope you'll never tire of seeing
I love romance and friends-to-lovers is my jam! I will never tire of romances that include this and I always get excited when I come across a new one. A few of my favorites include Play of Passion by Nalini Singh, Winning Bracket by Annabeth Albert, and First Surrender by Katie Reus.
#NotAll Instalove — You instaloved this instacouple
Trent and Harper move pretty fast, especially considering Trent's reservations about relationships and Harper's horrible past. But I just love everything about this instacouple in Scarlett Cole's The Strongest Steel.
#NotAll Love Triangles — An example of a love triangle done well
I can't pick one for this because I really don't like love triangles so I just avoid reading them. The few that I have read are the farthest from done well you can get.
#NotAll Parents — Bookish parents, that you know, parent!
I don't read too many books with parents doing "parent things". But I do remember loving the Garrett parents and their whole family in My Life Next Door by Huntley Fitzpatrick. A sweet YA romance that epitomizes the girl/boy next door trope.
 #NotAll Villains — A villain you love
I honestly can't think of one for this =[
#Notall Chosen Ones — A chosen one you can get behind
I'm not sure if this completely qualifies as "chosen one" but I'm picking Annalise Fallston from East of Ecstasy by Laura Kaye. Annalise has something special that Devlin needs in order to control his powers and defeat the evil Eurus. This was probably my favorite of the 4 book series but I highly recommend reading them and in order if you're interested.
#NotAll Hyped Books — A book that lived up to the acclaim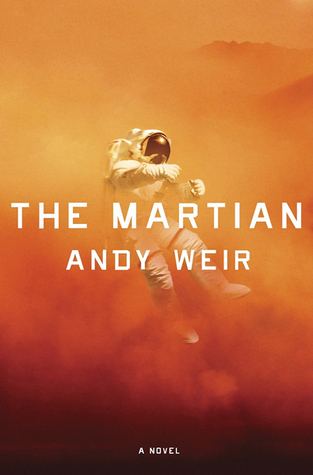 I waited awhile to read The Martian by Andy Weir because so many people were talking about it and I didn't want to get my expectations up. Oftentimes I end up not liking books that everyone else seem to love so I was leery; but I devoured this in one sitting and loved every second!
#NotAll *Insert Favorite Genre* — A book you're not keen on from your favorite genre
We all have books that should have worked for us because they have everything we love but instead they just don't work out. Two recent examples are His Perfect Partner by Priscilla Oliveras and The Dangerous Billionaire by Jackie Ashenden.
#NotAll *Least Favorite Genre* — A book you liked from a genre you don't often read
I took a chance on Feed by Mira Grant from the zombie/horror genre and I absolutely loved it! What I enjoyed the most is that it takes place 20 years after the zombie invasion and the world might still have zombies but everyone has moved on to a new way of life. It was a really unique (at least for my limited zombie experience) trilogy and I was fascinated by the world building.