The Tag
20 Questions Book Tag
I came across this great book tag from Chelle's Book Ramblings and thought this was a perfect way to share some fun things about myself and my reading addiction hobby. You can find the original questions on the Readaholics Goodreads Group.
How many books is too many books in a book series?
No such thing, especially if each book is about a different character/couple! I love series because it means I get to live in the same book world for longer and get to see characters I love for longer.
How do you feel about cliffhangers?
I hate them! I don't mind some lingering mysteries or story arcs in a series but I want each book to have a satisfying conclusion. I read pretty much all romance so a cliffhanger means the characters aren't happy together in some way and that just doesn't work for me. So this is essentially me warding off cliffhangers: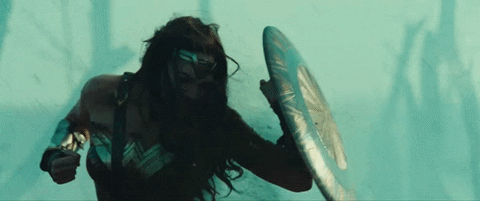 Hardcopy or paperback?
Definitely paperback because they're smaller and easier to hold. However, I prefer ebooks the most.
Favorite book?
Why must people ask this question?! It's always so hard to choose, which is why I have a Favorites list.
Least favorite book?
I've certainly come across books I haven't liked, books I've rated 1 star or DNFed. But the book that stands out the most for me is The Great Gatsby by F. Scott Fitzgerald. I've had to read it twice, in high school and then in college, and really loathed it both times.
Love triangles, yes or no?
Absolutely not!
The most recent book you just couldn't finish?
I just really couldn't get into Hold Me Until Morning by Christina Phillips. I really enjoyed the first book in the series but the second one just didn't work for me.
A book you're currently reading?
I started Animal Instincts by Patricia Rosemoor this morning.
Last book you recommended to someone?
I can't remember 😦
Oldest book you've read? (Publication date)
According to Goodreads it's The Odyssey by Homer
Newest book you've read? (Publication date)
I recently finished an Advanced Reader Copy of Show Me by Abigail Strom which was really great! It comes out tomorrow, January 2nd.
Favorite author?
Again, so hard to choose! But some of my favorites are Nalini Singh, Julie James, Laura Kaye, Nora Roberts/JD Robb, Anna Hackett, Annabeth Albert, and so many more.
Buying books or borrowing books?
I prefer to borrow books from the library for the first time I read them. If I love the book and know I'll read it again then I'll buy it for my Kindle. I do have a lot of auto-buy authors though and those I'll get right away. I do also buy a lot of books from used book stores or when they go on sale.
A book you dislike that everyone else seem to love?
So this is actually a series, but I can't stand the Black Dagger Brotherhood series by J.R. Ward. I actually liked the first book but I hated the next two in the series and gave up after that.
Bookmarks or dog-ears?
I never dog-ear but I also don't really like traditional bookmarks because they can fall out of the book when its in a bag. If I'm reading on my Kindle I don't have to worry about bookmarks but with a physical book I often use a sticky note so it doesn't fall out.
A book you can always reread?
Pretty much all my favorites can be read over and over again. But the book I've reread the most is Slave to Sensation by Nalini Singh.
Can you read while hearing music?
I can read through pretty much anything. But usually I don't turn on music when I know I'm going to read.
One POV or multiple POV's? (POV's = Point of views)
I am multiple POVs all the way! Again, since I read mostly romance I want to know what both love interests are thinking. It makes the romance more real and believable to see both sides.
Do you read a book in one sitting or over multiple days?
I'd love to just settle into the coach with my blanket and a book but most of the time I have to read over multiple days because that pesky thing called work gets in the way. I am known to binge read on the weekends though.