Romance, Science Fiction
Phoenix Brothers #0.5
---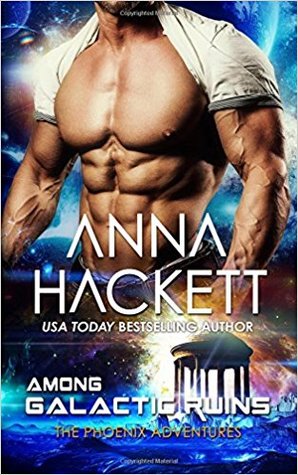 I enjoyed the fun and adventure of this book! Ever since I was little, I loved movies like Indiana Jones and The Mummy so this book was right up my alley. Both Lexa and Damon were great characters and I just wanted this book to keep going.
In typical Anna Hackett fashion, Lexa was a tough, strong, and brave woman who knows how to take care of herself. I loved her excitement over every find and how much she wanted to find and preserve ancient artifacts. Damon was a great hero as well: protective, confident, and passionate. We only get hints of his past but we get enough to reveal that Damon had a hard upbringing and then a dangerous and weary career as a spy. Lexa twists him up and gives him excite he didn't even know he wanted and they're a great pair. I would have loved to know more about Damon's past but this one was short and I knew it would be brief. Mostly I just wanted it to be longer so that I could get more information on the MC's pasts, Dathan and his brothers, and more on the hints of Earth being destroyed.
I also really enjoyed Dathan and can't wait to read his book! He was cocky and funny and I imagine he'll be quite the rebellious treasure hunter as an adult.
---
Content Notes
Themes
Archeologists
Bodyguards/Security
Enemy Lovers
Space Travel
---
Book Details
When astro-archeologist and museum curator Dr. Lexa Carter discovers a secret map to a lost old Earth treasure—a priceless Fabergé egg—she's excited at the prospect of a treasure hunt to the dangerous desert planet of Zerzura. What she's not so happy about is being saddled with a bodyguard—the museum's mysterious new head of security, Damon Malik.
After many dangerous years as a galactic spy, Damon Malik just wanted a quiet job where no one tried to kill him. Instead of easy work in a museum full of artifacts, he finds himself on a backwater planet babysitting the most infuriating woman he's ever met.
She thinks he's arrogant. He thinks she's a trouble-magnet. But among the desert sands and ruins, adventure led by a young, brash treasure hunter named Dathan Phoenix, takes a deadly turn. As it becomes clear that someone doesn't want them to find the treasure, Lexa and Damon will have to trust each other just to survive.
Published by Anna Hackett on August 8, 2015
---